The following diagram identifies the DIVA drives that can be added to a particular volume.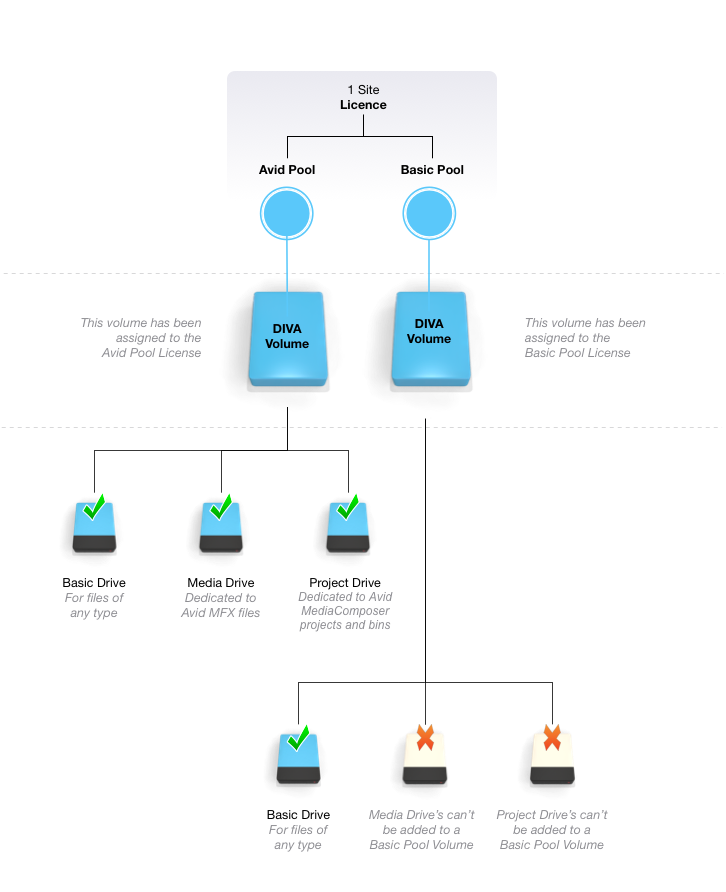 If the volume is assigned to an Avid Pool, DIVA drives of any type (Basic, Media & Project) can be added to it. If the volume is assigned to a Basic Pool, only Basic Drives can be added to the volume.
Note: These drives are not physical storage devices; they are virtual drives that reside on the volume (storage device). When mounted by a user on a Windows PC, the drive is assigned a drive number.
Note: On Basic drives and projects drives, using Avid, you cannot create Avid MXF files.
Note: You can only add a Project drive to a media or projects volume if it is permitted for that volume. To permit or prevent project drives from being added to a volume, see Allow Avid Project drives on a volume.
Create a DIVA drive
On DIVA Fusion's menu, click Drives.
Click New Drive.
From the Drive Type drop down menu, select relevant drive type.
In the Name field, type the name that you want to call this drive.

Note: You cannot use the characters < > : " / \ | ? *

From the Volume drop down menu, select the relevant volume.

Note: The available options will changed depending on what Drive Type you selected.

Ensure the Enabled checkbox is checked.

Note: If you deselect this option, users will not be able to access the drive.

Click Save Drive.
What's next?